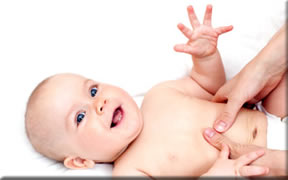 Testimonials
"It was terrible what Shane & I were going through.
We had tried everything for reflux from changing his bottle to thickened formula but nothing worked.  For months I watched him drink bottles and throw them back up crying with pain and loosing weight.  We could never leave the house due to this problem and I could not leave Shane with anyone.

Then I heard about Osteopathy for babies from a friend, so I phoned directory enquiries and found Lorraine's number.

I took Shane and his twin brother Odhran with me.  Lorraine explained about Cranial Osteopathy and a treatment plan.  The effect of the treatment was immediate.  Shane threw up his first bottle after his first treatment and then never looked back.  Shane is now a much calmer and relaxed child he sleeps much better too.  He is now a heavier weight than his twin brother. He loves his food. He is happy and so am I. 

I would highly recommend Osteopathy for babies with reflux."  Patricia, Shane & Odhran.
"I brought Emma to see Lorraine when she was about 4 months old
as she was a very slow feeder, sometimes going from one feed into the next, and also, she had problems getting up her wind.  I had heard, from a family member, about Lorraine and how she had helped another baby with similar problems. 
After our first visit I could see an immediate improvement in Emma's feeding.  Each visit she improved and stayed good for longer periods.  It took about four visits altogether but now Emma is like a different baby.  She can drink her bottles now and get up her wind without any problems and this has also helped her to develop a much better sleeping pattern. 
I would highly recommend to anyone who has a baby with similar problems as Emma had, to visit Lorraine.  A Big Thank You to Lorraine from Aideen & Emma!!!!!"
"Grace was hospitalised when she was three weeks old as she was
vomiting up every feed, we had no idea what was wrong and as her vomiting was projectile it was very distressing and we were very concerned that she wasnt getting enough food, she was diagnosed with reflux and unfortunately babies just have to grow out of it so we were preparing for some tough months ahead.
A friend suggested we take Grace to an Osteopath and I had heard great reports about Lorraine. I gave a complete rundown on Grace from the actual birth to present day and then she had a number of sessions and I have to say that even after the first session Grace was a happier baby, her reflux improved after every session.
We were told it could be six months to a year before the reflux disappeared, Grace is now 18 weeks and her reflux is completely gone and I have no doubt that the Osteopath treatment she received played a huge role in her recovery, from that very first visit it was obvious she was a more contented baby. I'm so grateful to Lorraine for her helping Grace and easing her discomfort." Fleur & Grace
I have two children, one aged 2, the other aged 1 and attend Lorraine
on a regular basis with both.  My two year old was admitted to hospital twice last winter with pneumonia and is being treated for asthma.  Thankfully with Lorraine's help she has had no episodes yet this winter.  My one year old had colicky symptoms when born and has since been admitted to hospital with a UTI(urinary tract infection).
Thankfully with Lorraine's help she has had no recurrent infections.  Not only has Lorraine helped with the ailments mentioned but has helped resolve any other issues that have arisen e.g. teething issues, unsettled sleep patterns, fussy eating, skin rashes.

Lorraine is extremely professional in her approach and listens to all relevant details in relation to your child i.e. physical, behavioural and emotional.  My children enjoy going to Lorraine.  She is adaptable in her methods of treating the children ensuring they feel comfortable and safe.  I would have no hesitation contacting Lorraine in relation to any problem they might have. " Geraldine, Sally & Isobel.